The Annapolitan proudly provides superior, affordable assisted living and memory care in Annapolis, MD.
A locally owned, independent assisted living residence in Anne Arundel county for over 25 years, we are a one-of-a-kind community where forward thinking leadership meets the personal touch. Learn More.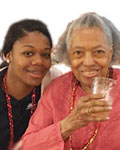 At Annapolitan Assisted Living, we understand the special needs of seniors with memory-related concerns.
Cattail Cove, our memory care neighborhood, is private and secure, with an established team of dedicated, friendly staff who are specially trained in Alzheimer's and dementia care. Learn More.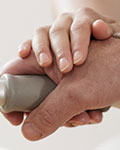 Even the most devoted caregiver needs a break, whether for extended travel, tending to their own health, or to take care of other responsibilities.
A short-term stay at The Annapolitan offers peace of mind knowing that your loved one is as safe as possible while you have much needed time off. Learn More.
Our residents and their families speak up with reviews of their experiences at The Annapolitan Assisted Living over the years. Read More.
Once again, thank you and the crew for a fun & energy filled celebration of Spring! My mom really enjoyed the music and it was fun to see her and other Annapolitan friends dancing, laughing, singing and clapping along. The food was really good, and the entertainment terrific. My daughter and I enjoyed the opportunity to meet other families of my mom's friends as well. Just when I think your monthly Family & Friends day has peaked, you out-do yourselves again. Thank you for all the contagious energy and enthusiasm you all bring!

And then, as icing on the cake, I arrived this morning to pick my mother up for brunch and found the cheerful Easter Bunny hopping through the hallways, delivering baskets of treats to each and every resident. Everyone in the breakfast room was buzzing about the contents of their baskets (glitter pencils!!!), talking about yesterday's party and how great the singer was, and how much fun everyone had. The energy from the party had carried over – it was so nice to see!

I'm grateful that my mother has found such a loving place to live. Thank you and every one of your staff for making it home.

Daughter of Resident, April 2019
See Our Reviews
Kerry Willingham
2022-09-29
We moved our mom here about three weeks ago from a place that was more expensive and not very caring. Annapolitan Assisted Living is a hidden GEM! This place is organized, caring, spectacular! In less than a month our mom is smiling again, out of her room doing activities again, and she is even playing the piano again! The nurses are wonderful and caring. The director is amazing. Most workers have been here for over 7 years, and you can tell they enjoy their jobs. The dining hall is great, and we just love them all! We are so glad that someone told us about this gem of a place, otherwise, they don't advertise and they don't spend extra money doing it because they aren't a corporation. What a lovely place! Thank you!
Look no further, this assisted living home is amazing! My mother lived in an assisted living facility prior to moving to Annapolitan Assisted Living, and while we are thankful that her prior facility kept her safe and cared for, her former assisted living experience was no comparison to the wonderful experience she has had at the Annapolitan. My mom has lived here for almost three years and I am always impressed by how professional the staff is, and how kind they are to my mother. Additionally, the activities director always has terrific parties for the residents and the residents' family and friends, and they take residents on outings to restaurants, parks, and even Bowie Baysox baseball games. During the COVID pandemic, the facility manager was absolutely terrific in balancing the health needs of residents with their emotional need to see family and friends, and implemented common sense precautions to protect residents. The entire staff is top-notch, friendly and caring. If you are looking for a place for yourself or your loved one, the Annapolitan is a terrific choice!
This place is wonderful! My mom is very well taken care of, the staff is very attentive. Jim Thompson, the director has gone above and beyond to make the families of the residents well informed during COVID-19.
At this Thanksgiving time of year, our family has much to be thankful for, not the least of which was our decision four years ago to choose The Annapolitan as Dad's new residence. Dad is now 105 years old and is extremely happy in his surroundings. There is not a doubt in our minds that Dad's happiness is solely due to the care, compassion, and respect he receives from the dedicated staff and management. I have written two or three previous reviews so that other families can make the right choice for the care of their loved ones. Those reviews have been equally balanced between the staff's excellence and that of The Annapolitan's management, but this time I want to commend, applaud, and extend our gratitude more specifically to Jim Thompson, the Director. By anyone's measure, by any standard, I do not think there could be a better director of an assisted living facility. The quality and consistency of care over the four years of Dad's residency has been unwavering and above reproach, and is indicative of Jim's skills. He is kind, calm, and attentive to residents and family alike, yet maintains a professional demeanor that inspires confidence. His understanding, response, and communication during the current Covid-19 crisis is to be applauded, yet I think he does not get enough credit. Most people probably wouldn't realize the number of masters that Jim has been serving this year: the Health Department, the Governor's regulations, his residents, his staff, his families, and, of course, the Virus. Even after the most recent round of on-site testing, which resulted in a very unexpected 32 "Positives," Jim had every person retested within eight hours. Every one of those 32 retests came back as "Negative." Jim and The Annapolitan have had in impeccable record of performance and communication during a very unpredictable and uncertain time. Our family is very grateful. In closing I want to send a message to my own family members…If I ever need assisted care, PLEASE check me into "Hotel Annapolitan." Marion Frost
Melissa Rayhart
2019-05-28
Words cannot express my appreciation for Annapolitan Assisted Living during my dad's stay of almost 2 years. The staff is top notch as is the management. It is true what the reviews are saying. Annapolitan AL is a great place, good food, fun parties, outings and more. My dad was so very happy there. Also, we as a family were happy that he had a safe and loving environment that included us any time day or night. I was very concerned when he had to be moved to the memory care unit. I quickly learned that the advice I was given (that it was time) was spot on. Although he was not in memory care for very long due to a lung illness and a stroke he received excellent care from the staff. They worked tirelessly to make him comfortable and I will be forever grateful. Part of the sadness of losing my dad is that I will miss seeing on a regular basis all of the folks that helped our family to make his last years great years. Don't overlook this place in your search for excellent care and an extended group of family and friends!
Catherine Weston
2018-07-02
Respite Care for My Dad: This place is awesome! Everyone is really kind and helpful. My dad was skeptical at first but found the place to be really nice. It is spotlessly clean with none of the smells you find at other places. Jim worked with me to get him registered and all the required paperwork prior to him checking in. I love this place and will keep them in mind for upcoming respite care needs and any long term care needs that may arise! What a hidden gem! Oh, and the pictures you see are true to date - none of the styling that other places have and when you arrive it looks totally dated and dirty and old!
The Annapolitan is now my home. I'm happy here. There are a lot of activities. The staff encourages me to press the button on my pendant any time I need help. It is after all assisted living. They make sure that the residents get their medicine on time. More later when I have time.
My Mom has been at the Annapolitan since 2013. She loves it. The activities, the friends and family events ... she's made great friends. Mom plays bridge and the Annapolitan drove her to the Senior Center every Tuesday free of charge. We love the free family meals. The food is excellent. Hats off to Chef Eric. Highly recommend.
Did you know...
Did you know that Cattail Cove Memory Care at The Annapolitan is the only all-inclusive memory care in Annapolis?
Our simple, all-inclusive rate for memory care includes medication management and specialized, hands-on care for seniors with Alzheimer's and other memory-related impairments.
Learn more about why Cattail Cove is the best value for memory care in Annapolis, MD.