See The Difference Our Independence Makes
It's no secret that many organizations are currently struggling with staffing, especially in the field of health care, and especially in senior living.
Over the past few years, we've all experienced inconveniences due to businesses being short-staffed or relying on temporary workers. In senior living, however, insufficient or temporary staffing is far more than an inconvenience: it directly affects seniors' quality of life and the quality of care they receive.
Here at the Annapolitan, our core management team and core staff have been in place for more than a decade. Unlike other senior living communities, we do not rely on temporary staffing agencies to provide care.
Instead, we rely on creating an environment that can support and retain staff who are well-trained and know the routines and preferences of the residents in our care.
That means we are constantly striving to add quality candidates to our team. That also means we won't hesitate to move on from staff who do not value our commitment to excellent customer service and reliability. It's a continuing process that pays off with your loved one experiencing the personal touch and attention from team members who are proud of the service we deliver.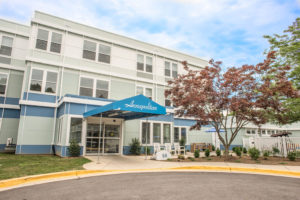 The Annapolitan is unique in that our size is similar to the surrounding corporate-led options, but feels small because of our local leadership and approach.
This distinction means that we can offer what everyone most wants for their family: care they can rely on, events to look forward to, and a whole lot less to worry about. Families who choose The Annapolitan often tell us it just feels better here, and that people here seem happy and well cared for. Just read our recent testimonials and see.
That's the difference our independence makes. Come see for yourself. Call us at (410) 757-7000 or contact us here for a tour.